VNB Locations, Directions, & Hours
VNB's local offices are inviting, convenient, and functional. But no matter how nice, the building is not the bank. People, not brick and mortar, make a bank successful.
Effective June 4th, all VNB locations will be permanently closed on Saturdays. Our Client Care Center will continue to operate from 9 a.m. - 1 p.m. on Saturdays.
Client Care Center hours: Mon-Fri 8 a.m. - 7 p.m., Sat: 9 a.m. - 1 p.m.
Mailing address:
Virginia National Bank,
PO Box 2853, Charlottesville, VA 22902
Charlottesville and Albemarle County
Fauquier County
Northern Virginia
Winchester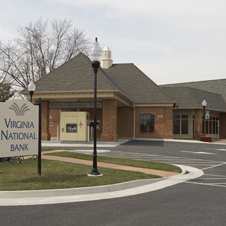 Creekside, Winchester
CREEKSIDE
3119 Valley Avenue
Winchester, VA 22601
540.665.8882
Lobby and Drive-Thru Hours: Mon-Fri 8:30-5:00, Sat CLOSED
Richmond
Scott's Addition, Richmond
Scott's Addition - NOW OPEN!
1401 Roseneath Road
Richmond, VA 23230
804.573.2586
Lobby Hours: Mon-Fri 9:00-5:00, Sat CLOSED